Erstmals gefunden am 25.05.2021
Beschreibung
City Pop - Deine flexible Lösung für lange und kürzere Aufenthalte um dich wie zu Hause zu fühlen.

Ab 405CHF/Woche bis 500CHF/Woche, bieten wir zentral gelegene Wohnungen in Zürich-Altstetten an, von rund 30-35 Quadratmeter. Wir bieten verschieden typologien an Pop: M, L oder XL. Diese möblierte Wohnungen garantieren ein authentisches Wohnerlebnis.

Top Lage: alle Pop Wohnungen blicken auf einen wunderschönen grünen Park im Inneren des Gebäudes, der ein angenehmer Gemeinschaftsbereich zum Entspannen ist. Die Wohnungen befinden sich NICHT auf der Strassenseite.

- Ausgestattene Wohnungen mit Küche, Wohnzimmer, Schlafzimmer und Bad;
- Vollständiges Inventar für Küche (Teller, Gläser, Töpfe usw.), Schlafbereich und Badezimmer (Handtücher);
- Nebenkosten (Elektrizität, Wasser);
- Wi-Fi;
- Smart TV (Serafe excl.);
- Frühstück (Croissant und Kaffee).

Aber das ist noch nicht alles!
Dieses fantastische und innovative Wohnkonzept ist frei von vertraglichen Beschränkungen hinsichtlich der Mindestaufenthaltsdauer und kann auch für 4 Wochen bis maximal 52 Wochen gebucht werden.
Es steht eine breite Palette von Standard- und Zusatzdiensten zur Verfügung, die z.B. über die City-Pop-App aktiviert werden können:

- Reinigungsservice (wöchentlich, zweiwöchentlich);
- Kellerraum;
- Parkplatz (intern und extern).

Jeder Gast kann sich sein eigenes Angebot an Dienstleistungen zusammenstellen und anpassen, um seinen Bedürfnissen und seinem Lebensstil am besten gerecht zu werden.

**Es ist so einfach wie die Buchung eines Hotelzimmers!**
**Um ein Apartment zu buchen:**
**- Laden unsere "City Pop" App herunter;**
**- Wähle deinen Buchungszeitraum (Check-in und Check-out); die verfügbare Pop erscheinen;**
**- Schliesse deine Buchung ab!**

Erfahre mehr über unsere Website oder durch unsere App "Citypop"!

Wir freuen uns auf deine Buchung!

*********************************

City Pop - Your flexible solution for long and short stays to feel at home.

From 405CHF/week to 500CHF/week, we offer centrally located 2 apartments in Zurich-Altstetten, of about 30-35 square meters. We offer different typs of Pop: M, L and XL. These furnished apartments guarantee an authentic living experience.

Top locazion: all the Pops overlook a wonderful green park in the inner part of the building, which is a pleasant communal area for relaxing in peace and quiet. The Pops are NOT on the street side.

In your Pop you can relax, work, sleep, cook and eat, all in an apartment with such an organized 4-star interior:

- Complete furnished apartment with kitchen, living room, a separate sleeping room and bathroom;
- Complete inventory for kitchen (plates, glasses, pots, etc.), sleeping area and towels;
- Expenses costs (electricity, water);
- Fast Internet connection;
- Smart TV (Serafe excluded);
- Breakfast (croissant and coffee).

But there is more! This fantastic and innovative living concept is free of contractual restrictions regarding the minimum length of stay: City Pop can be booked for 4 weeks up to a maximum of 52 weeks.
A wide range of standard and additional services is available, which can be activated e.g. via the City-Pop-App:

- Cleaning service (weekly, biweekly);
- Storage;
- Parking spot (internal and external).

Each guest can create and adapt his or her own range of services to best suit his or her needs and lifestyle.

**It's as easy as booking a hotel room!**
**To book an apartment, download our "City Pop" app, choose your booking period and you will have access to all available apartments in the period you want!**

**Get more information to our Website or through our App "Citypop"!**

We are looking forward to meeting you soon at City Pop!
Mehr lesen
Bernerstrasse Süd 167, 8048 Zürich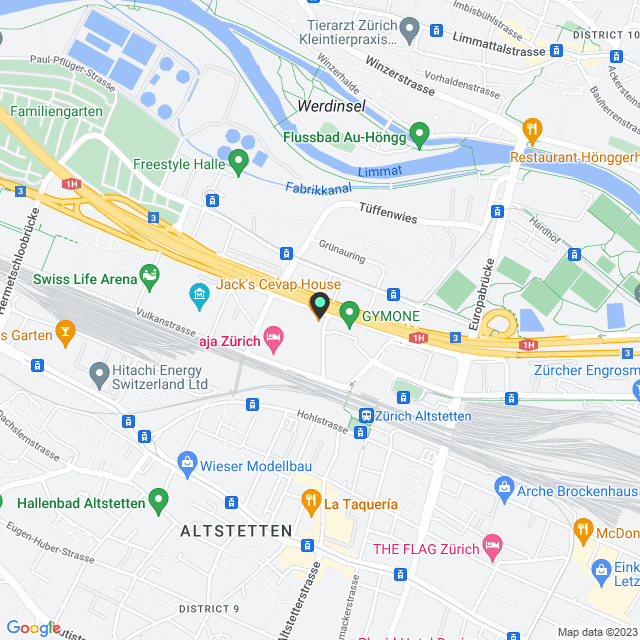 Angaben
Adresse
Bernerstrasse Süd 167
8048 Zürich
Objektreferenz
dde582cd-a850-4ed8-83fa-f320ef061578
Objektkategorie
ein Möbl. Wohnobj.
Gefunden aufgrund
Attribute Neubau
Anbieter Kontaktieren
Projektwebseite:
Auch inseriert auf: